Freda Ayesua Amadi is a first year student of the Koforidua Technical University. She is pursuing a Diploma in Public Administration which according to her is perfectly in line with her future career ambitions. Freda's academic journey has not been a smooth one but through hard work and determination, she made it to one of Ghana's top technical universities. She had her basic education at the Tieku M/A Basic school in Nsawam where she was a beneficiary of our education sponsorship program. As part of our effort to follow up on the progress of past recipients of our scholarship program, we caught up with Freda early last year. The team was thrilled by her remarkable story; a story of perseverance and a strong will to succeed despite the numerous challenges she faced after her secondary education. Inspired by her story, we enrolled her on our Tertiary Education Sponsorship Program (TESP), a program aimed at providing financial support to past beneficiaries of our basic school sponsorship program who are currently enrolled in a tertiary institution in Ghana.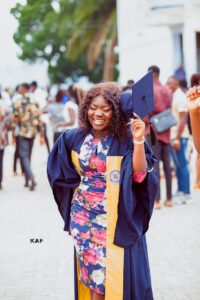 How was your experience growing up in Nsawam?
Growing up as a teenager in Nsawam taught me that, you have to be tough and you have to be self disciplined. Generally, it was a nice experience growing up in Nsawam.
Now let's narrow it down to your time at Tieku Basic School?
The experience was great! Tieku gave me the best training an institution could in terms of academic excellence and discipline. I made a lot of friends who made my time there fun.
How were you selected to be part of the CPAS (now REAP) program?
I was selected by the head teacher at the time, Mr. Edem Gbeckor-Kove.
For how long were you on the program?
I was on the program for three years. From JHS 1 to JHS 3.
Briefly describe your academic journey after Junior High School.
After Tieku School, I continued at Nsawam Senior High school. I started senior high school in 2017 and completed in 2020. Due to financial difficulties, I had to stay home for two years. Over the two year period, I worked as a health assistant in a private health facility in Nsawam. I am now reading public administration at the Koforidua Technical University through the help of my family and REAP Ghana.
How has your experience been so far at the University.
The experience has been great and impactful. It has broadened my perspective on some social and life issues.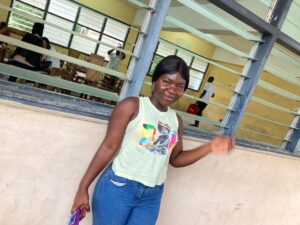 What are your future aspirations and how are you working towards them?
My dream is to become a public administrator. I am working on this by giving out my best in relation to my academic work.
How has REAP Ghana impacted your life in recent times?
REAP Ghana has really helped me in terms of finance. Their support came in just in time and I am very grateful to the team.
Is there anyway you think we can improve on our work?
I think you are doing the best. You have a very competent team who have the less privileged at heart.
Any last words to us at REAP, current students on our program and our funders?
Thank you very much for your support, I am very grateful.