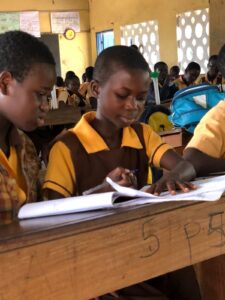 After her retirement from teaching and as a result of her ties with the Ghanaian community in Denver, Colorado, Priscilla Jeffery was invited to visit to Nsawam, Ghana in 2011. Because of her background in non-profit management, she was asked to meet with local community members and leaders to work on a needs assessment with them. In order to address those needs and she founded REAP Ghana, to work with the community.
It was decided that girl-child education was a priority, because girls are often taken out of school before boys to work or care for siblings, thus never escaping the cycle of poverty. By supporting girls' education, we are breaking that cycle by giving girls the education and skills for more opportunities for a successful future.
Since the founding, REAP Ghana has run microfinance and village savings and loan programs as well as our education program. Currently, we focus solely on education in three government schools by sponsoring girl students and partnering with other organizations to improve the quality of education in those schools. All of the REAP Ghana and partner organization's employees are Ghanaians. We create jobs and use the expertise of local people to solve their own challenges.