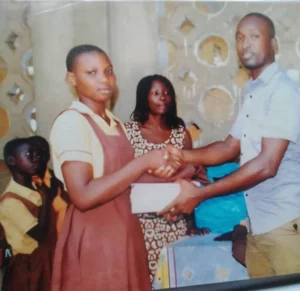 When Freda's email came through on the evening of June 24, 2020, it was all joy for the team. Hardly do former beneficiaries of the REAP Ghana sponsorship program get in touch with us after completing their basic education. Freda Ackom was enrolled in the REAP Ghana sponsorship program when she was in class 4 (grade 4) at the Sakyi Agarkwa Primary 'A' school and remained a beneficiary till she completed her basic education 5 years later. She proceeded to St. Martins Senior High School in 2016 where she read General Science. She sat for the West African Secondary School Certificate Examination (WASSCE) in 2019 and is currently looking forward to furthering her education at the University of Ghana, Legon.
In this interview, Freda talks about her days at Sakyi Agyarkwa Basic School, the impact REAP Ghana has had on her life and her plans for the future.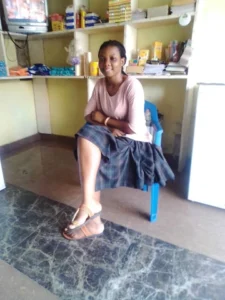 When and how were you selected to be part of the REAP Ghana program?
I joined REAP Ghana when I was in class 4. We were told by our teachers that an organization was there to support students who were needy but academically good. Fortunately for me the headmistress at the time, Madam Gloria Agyemang selected me to be part of the program. I was sponsored from primary 4 to JHS 3.
What was the financial situation of your family at the time?
It wasn't stable, I was staying with my grandmother and she used to pay my school fees before I was selected to be part of the program. She only sold palm wine at the Nsawam market.
What did the sponsorship package entail?
They used to give us school uniforms, books, pens, pencils and other learning materials. They also used to organized talks for the beneficiaries where they urged us to study hard.
What are some of your fondest memories of your days under the sponsorship program?
Priscilla Jeffery used to visit us with different groups of white men and women and African Americans and on each occasion they donated materials to us. There was a time Mr. Mustapha, the former program director visited us with an African American lady and I got the chance to interact with her and she advised me.
Do you also remember the names of the teachers who taught you at Sakyi Agyarkwa School?
Yes, I was taught by Mr. Wilson, Mr. Aletso, Madam Tina, Madam Vivian, and Mr. Sogah. At the JHS level I was taught by the late Mr. Sasraku, Mr. Isaac Adokwei, Sir Robert and Sir Amoah.
Do you think the sponsorship by REAP Ghana has any impact on your life?
Yes it did, aside the financial support, I remember during my JHS days REAP Ghana sponsored our participation in a students' camp at the University of Ghana. There I learnt a lot and got to visit a lot of places in Accra, I made a lot of new friends and it exposed me to life in the big city for the very first time. I was very happy!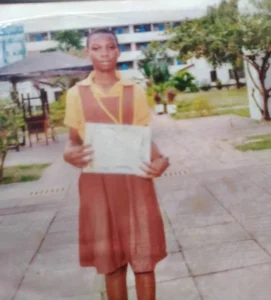 So how did things turn out after completing basic school?
I continued at St. Martins Senior High School here in Nsawam. I read General Science.
How was the experience like at St. Martins as a science student?
Well, we heard a lot before going, people were like science is difficult and all that but I was ready for the challenge so I took the course.
Was it as difficult as people projected it to be?
I think it entailed a lot, the topics were many and some topics were quite difficult to grasp but I think at the end of the day I was able to do it. And also because I was determined, I put in all my effort.
What happened after senior high school?
I moved from Nsawam after completing senior high school and joined my Mum and Dad at Kasoa. I worked briefly in a shop as a keeper until the Covid 19 pandemic struck so I am home now and searching for a new job.
So what are your plans for the future?
I want to go back to school. I have a couple of professions in mind, medicine, nursing or law. If I get the needed support I will apply to the University of Ghana next year.
Do you have any message for REAP Ghana as a former beneficiary?
I'd like to thank REAP Ghana for all they did for us, we were very happy when they came to our aid. Though we have left high school we still look up to them. We are grateful for everything they did for us, God bless them all. And my advice to current students on the program is that they should take their books seriously and make REAP Ghana proud.